Фотографии и отзывы.
В этом разделе можно увидеть тысячи фотографий более 100 моделей катеров с успешно установленными вышками MonsterTower. Это фотографии вышек, установленных своими руками, присланные благодарными клиентами в адрес компании MonsterTower. С помощью этих фотографий можно получить представление о способах установки на различные катера и внешнем виде катера после установки. Для просмотра выберите модель вышки и модель катера.
Фотографии катеров Kenferm с вышкой MT1 (всего 1 фото).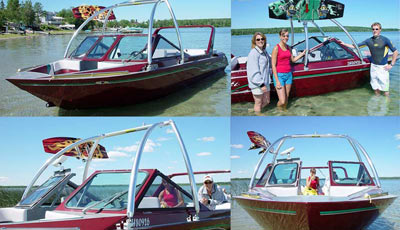 Kenferm - Dan Williams' "Kenferm" Sifter SL V8 Jetboat
I spent about three months reviewing photos of all the different towers out there, and always ended up going back to the Monster Tower. I read the on-line installation manuals, and the FAQ several times before finally placing my order. I also feel the customer photo gallery is awesome and definitely assists in making a decision as you can get a pretty good idea what the tower will look like on the boat. I am 100% satisfied. It installed very easily, was packaged very well, and the instructions were perfect. You guys thought of everything right down to sending "extra attaching hardware." We get asked if the rope from the Monster Tower interferes or contacts the existing spoiler, the answer is no, there is better than 24" clearance. Strongest tower ever! By the way, it is totally silent as advertised.
Катера с вышкой MTK
Катера с вышкой MT1
Катера с вышкой MT2