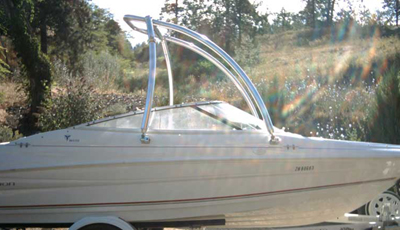 Campion - Jared Thomas's Campion
We are extremely happy with the product and have enjoyed dealing you folks at monster tower, your customer service is second to none! Just prior to a two week vacation our Monster tower was installed and we were very excited to put it to use. We were amazed at the fact that so many people commented on our tower and wanted to know more about it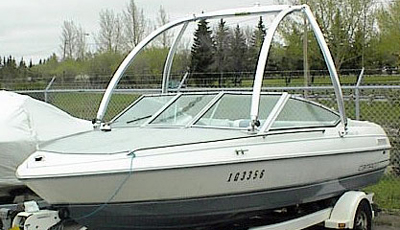 Campion - 1992 Campion 170 Allante
installed by Performance Marine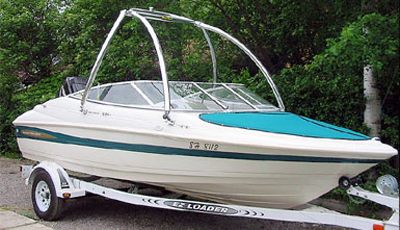 Campion - Allan Kovacik's Campion
No problems- great hardware, good instructions, a couple of beers, and presto the tower looks great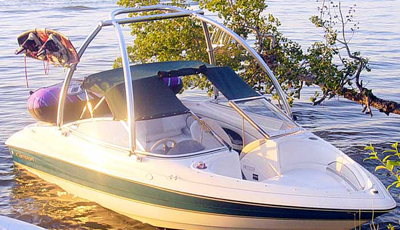 Campion - Clint Dieno's 1999 19' Campion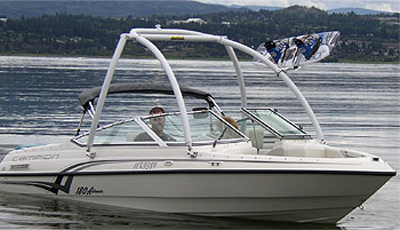 Campion - Jerry Pauls' 1995 Campion Allante
I installed it last weekend and it looks and works great.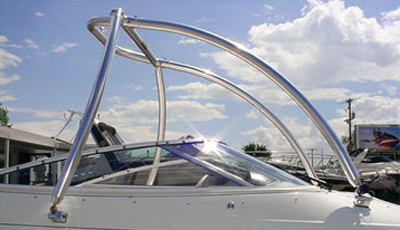 Campion - 2000 Campion Allante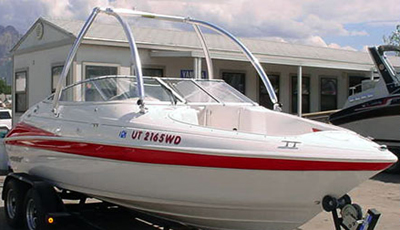 Campion - 2000 Campion Allante - Install by Executive Boat & Yacht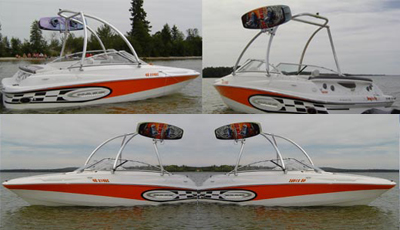 Campion - Kelly Booth's 2003 Campion Chase 550i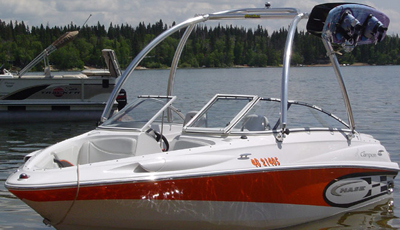 Campion - Kelly Booth's 2003 Campion Chase 550i
The install was done by Myself, my wife, and a friend, where it took about 3 hours with the help of a rope, a rafter, and a tall ceiling. The Tower works great, looks great, and makes riding much more pleasurable, both on the water and in the boat, since the addition of a board rack, it keeps the boards out of our way.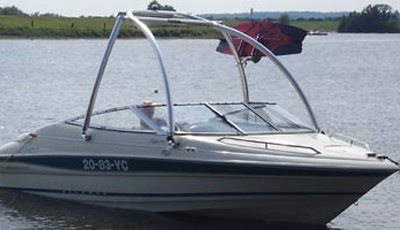 Campion - Danny Jansen's 1997 Campion Allante 535
Hello from the Netherlands I installed the monster tower and it looks great and it works fantastic.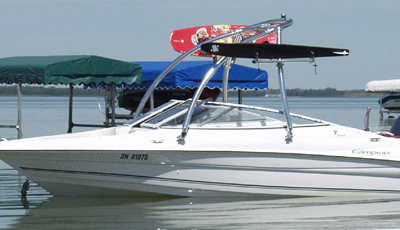 Campion - John Thorsteinsson's Campion
Bought one of your towers from a dealer in Calgary Canada. The guys there said they "could" install it but if I had any mechanical skill I could do it myself and save the $$$$$$. While my wife drove to the lake I read the install instructions. Very though! Next day we opened the box to start (couple of coolers - nice touch!) and went to work. Took my time laying it out, followed the drilling instructions, used my 7 year old to hold the nuts on the inside of the boat, and 5 hrs later (2 of work - 3 looking at things) it was done. We did it on the beach with the boat still in the water. I am very impressed with the product's quality. It does what it is supposed to do and does it well -extra AIR!!! and looks great!!! well you be the judge. The install equipment and instructions are top shelf!!!! Nice to come across a company that has the consumer in mind!!! We have both the ski and board rack and will be getting the mirror for next year!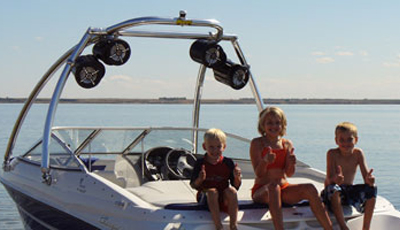 M. Scheidt's Campion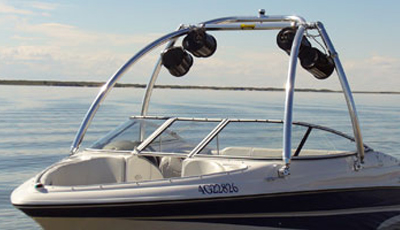 M. Scheidt's Campion
Your Tower was very easy to install and has worked great. What an awesome addition to my boat