Фотографии и отзывы.
В этом разделе можно увидеть тысячи фотографий более 100 моделей катеров с успешно установленными вышками MonsterTower. Это фотографии вышек, установленных своими руками, присланные благодарными клиентами в адрес компании MonsterTower. С помощью этих фотографий можно получить представление о способах установки на различные катера и внешнем виде катера после установки. Для просмотра выберите модель вышки и модель катера.
Фотографии катеров White Shark с вышкой MT1 (всего 1 фото).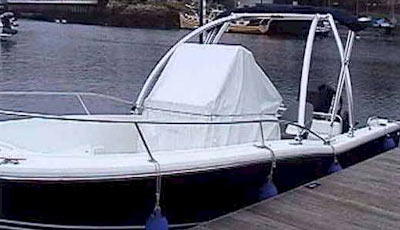 WhiteShark - Glyn Jones' White Shark 205 from Wakeboard Towers UK
Great tower.. bought from your English dealer and installed on my White Shark 205 in Falmouth Cornwall UK. Great quality, great price, and really easy to fit with great instructions. Instructions for tower are brilliant and very clear- especially all the detailed tips. Tower quality is excellent... really quality! Fitting is so easy once you've measured and sized it all up and made the decisions where to fit it. And the universality of it is great. It was very satisfying to tighten up all the bolts and feel it all go rigid. We are going to have a lot of fun with it!! Thanks a lot I wish Wakeboard Towers UK every success in the UK with a fantastic product.
Катера с вышкой MTK
Катера с вышкой MT1
Катера с вышкой MT2