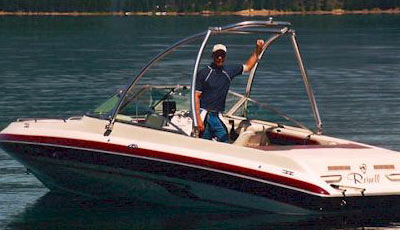 Reinell - Kevin McRae's 1996 22 foot Reinell
We are very proud of our boat, and notice much more "boat envy" wherever we go now that we have the Monster Tower on it! The lines of the tower and the boat really complement each other nicely.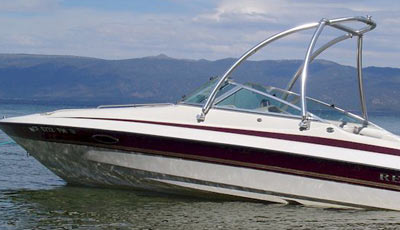 Reinell - Kenin Fairley's 1999 Reinell 240C
It looks great and the design is awesome. No rattles and rock solid. Thanks for making such a quality product and keeping it reasonably priced.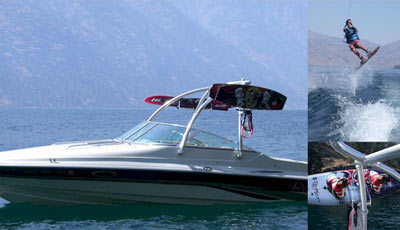 Reinell - Michael Schriver's Reinell 240
Installation was very easy and the tower works very well, we couldn't be happier........now we have no excuse about getting "Big Air!"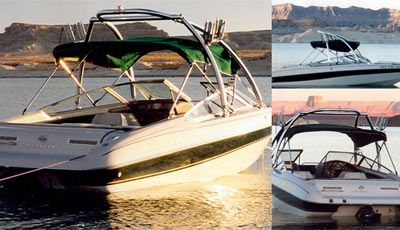 Reinell - Jerry Sipe's Reinell
You have yourself a very nice consumer-friendly product. From ordering, to shipping, to the proven product the whole Monster Tower experience was super!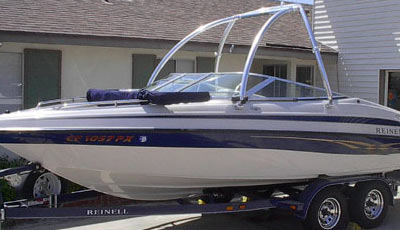 Reinell - Greg Power's 2002 Reinell
Thanks for the great product, it is as easy to install as promised. Looks great on my 2002 Reinell. It was at my house within a week of ordering and the customer support was excellent.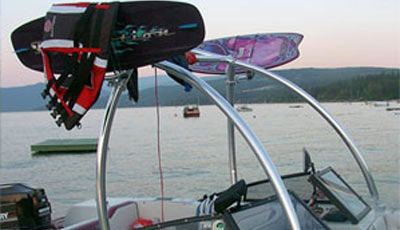 Reinell - Rob McKibbon's Reinell 181SR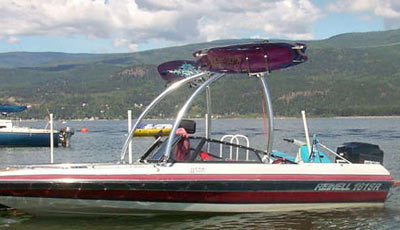 Reinell - Rob McKibbon's Reinell 181SR
Just installed the tower myself last weekend with all the accessories too.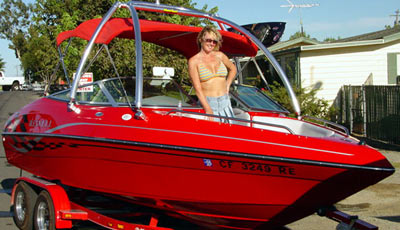 Reinell - Alex Heilberg's 2003 Reinell 200LSE
I had a couple buddies help me install the tower on Saturday. I took some friends wakeboarding on Sunday. No vibrations, no squeaking, no bending, nothing! After I pulled the boat out at the end of the day, someone drove up with their boat (without a tower) and asked how I like the Monster Tower. I told them it was worth every penny and more. You guys have a great product.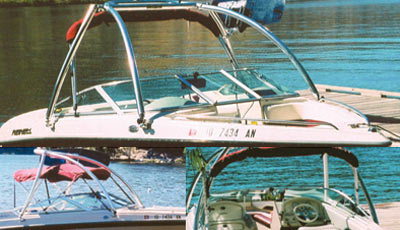 Reinell - Gary Gersten's Reinell
I bought my Monster Tower and bimini top last summer and absolutely love it. It enhances the look of my boat tremendously. The tower is rock solid and the bimini top fits under the tower with a custom look. I have had several inquiries about this tower and have highly recommended it to others. People can't believe that high quality tower comes in at such a low price. The tower is a high quality product along with it's accessories. Keep up the good work!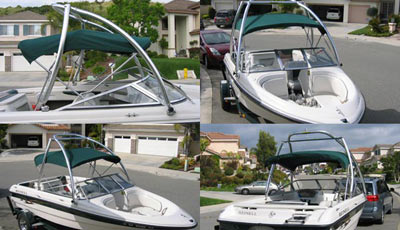 Reinell - Ken Bruette's 2003 Reinell 185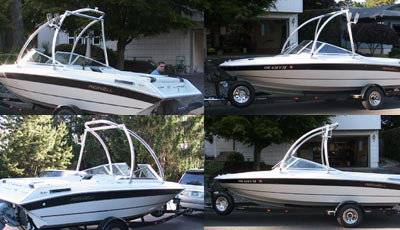 Reinell - Jake Shearer's 1995 Reinell 196BRXL
It went on easy and works great. Rock solid with no squeaks or rattles.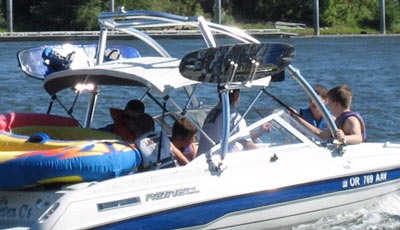 Reinell - Scott Lewis' Reinell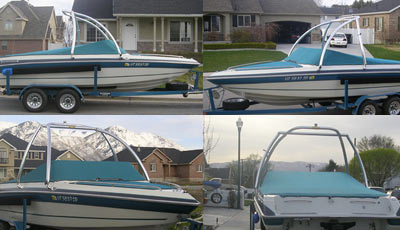 Reinell - Cassi and Courtney Bauer's 1995 Reinell ski boat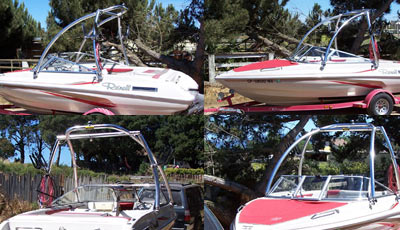 Reinell - Lohn Lunsford 1997 Reinell 180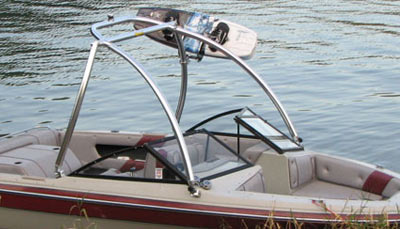 Reinell - Brian Fagerness' 1989 Reinell
The tower works great and easily collapses so I can get it in my garage. I installed it in two evenings and managed to over torque a bolt and broke it. I sent a quick email and the monster tower guys emailed back that two bolts were in the mail. We used the tower a lot this summer and don't have a complaint. I can't imagine boarding without it.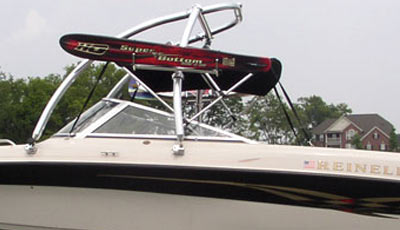 Reinell - Tracy and Lori Biller's 2002 Reinell 203
The Monster Tower and bimini was a great addition to our boat. Superb construction, easy to fold down and put back up. The slalom ski and wakeboard racks are wonderful. Great job!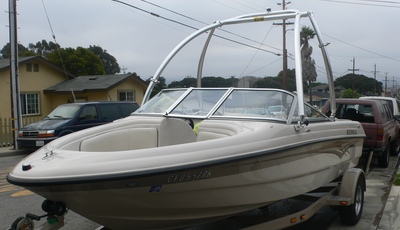 Orlando M's 2007 Reinell 185 LS
Loving the monster tower. It really is fatter stiffer and stronger!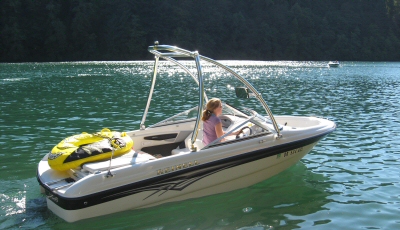 Chris and Teresa S's 2006 Reinell
MT1 ready to go!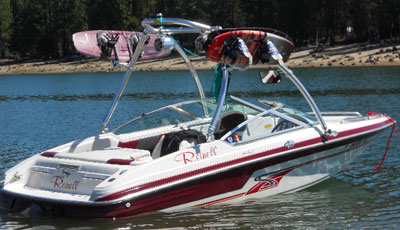 Reinell - Toby W's Reinell
I recently purchased the MT1 package. So far it's great. Really ads a new look to my 1996 boat and I love the racks, no more boards to trip over.