Larson - Brian Gleghorn's Larson 186sei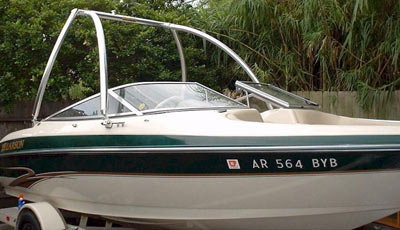 Larson - Paul Marshall's Larson
Overall I am very impressed.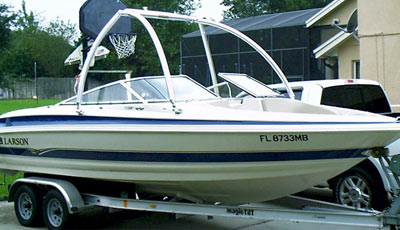 Larson - Mike Morrow's 2002 Larson 201
Hey Monster Team: Just put on the tower on my boat . Looks great don't you agree? The tower is SOLID and folds easily. Everyone is impressed and I can store the boat in the garage. My son (12 years old) finally is satisfied that we have a cool boat and not the family truckster. First time out (his second on the board) with the tower he hit the wake and kicked some nice air. The landing was pretty rough though. Thought you might enjoy the photo.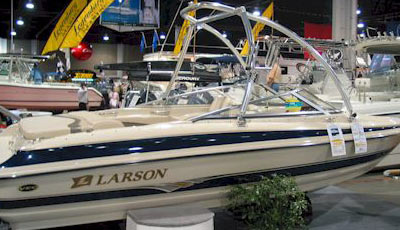 Larson SEi 210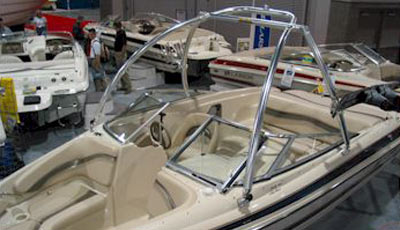 Larson SEi 210 Installed by Atlanta Marine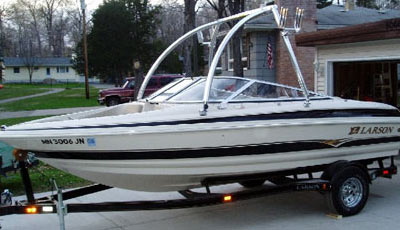 Larson - Mike Boyle's 2003 Larson 190 Lxi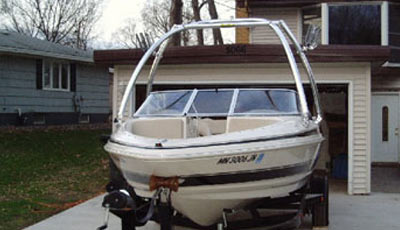 Larson - Mike Boyle's 2003 Larson 190 Lxi
I was impressed with the quality and appearance!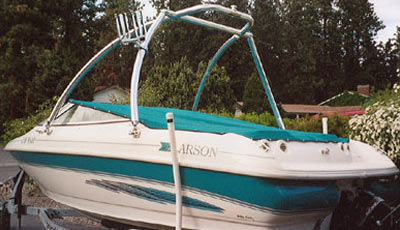 Larson - Mr. K. Stephens' Larson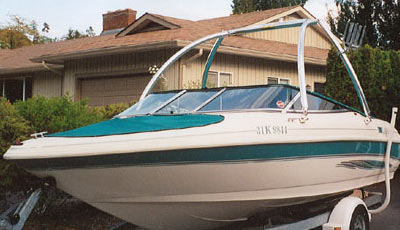 Larson - Mr. K. Stephens' Larson
Great job on quality and price.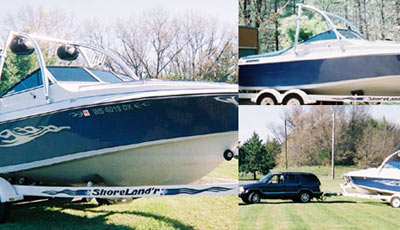 Larson - Rob Unruh's 1987 Larson 190 Delta
A cleaned up version of a old fishing boat, converted into a tricked out Monster boat with Monster Tower, wakeboard racks, pro audio tower speaks and a little attitude to go with it (this boat looks nothing like a fishing boat anymore and completely like a bad as wakeboard boat). As far as the towers, they are awesome and make a world of difference on the water. I have had no problem with either of the towers or the accessories on them. I have been recommending Monster Towers to my friends who are looking into buying. They all like the simplicity in the assembly of the towers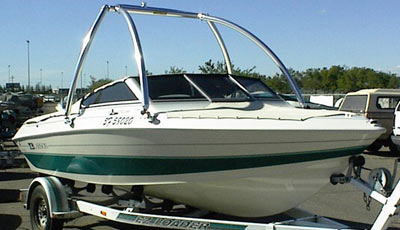 Larson - '92 Larson 170 "All-American" installed by Performance Marine.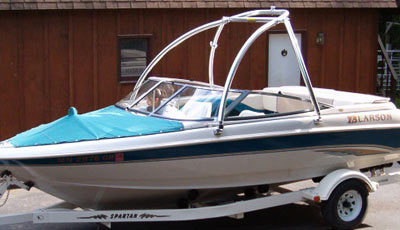 Larson - Rob Whiteford's 1996 Larson 194
I purchased and installed my MonsterTower in June 2004 and have thoroughly enjoyed using it. It truly provides a custom look to the boat and also helps get you out of the water quicker not to mention the fact that big air comes easier. I have recommended the MonsterTower to many different people and when I upgrade to a wake board boat I'll purchase and install a new MonsterTower right away. I feel that the MonsterTower will make by boat a more attractive purchase when I go to resell it as well as increase the value of the boat. We absolutely love it!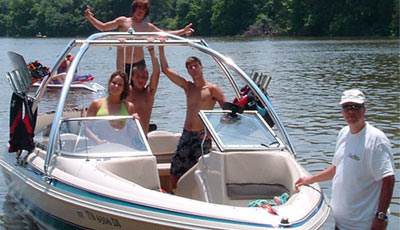 Larson - Brian Johnson's Larson 210 LXi
The install took 2 1/2 hours with just my son and I. Love it.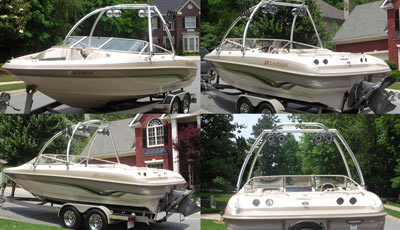 Sid Wistrick's Larson
We really like how it looks and you can't believe all of the looks we get, especially with the Polk Barrel Speakers and board rack.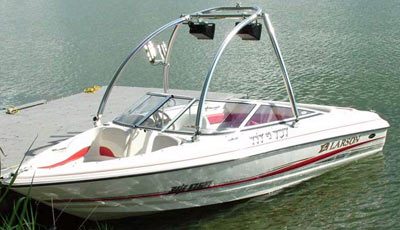 Larson - Chris and Sue
I got my tower last fall and after I put it on, it rained and rained! So I have yet to use it, but here are some pics...Looks good, most people think it came with the boat. My wife "Pimped My Ride" this Xmas with a set of Kicker Speakers and a Monster Wakeboard rack next are the lights. Installing was fairly easy, but I didn't do it in 2 hours. It took me roughly three evenings making sure everything lined up right, was looking good, and prayed before drilling the fiberglass of my new boat. (measure twenty times, drill once!)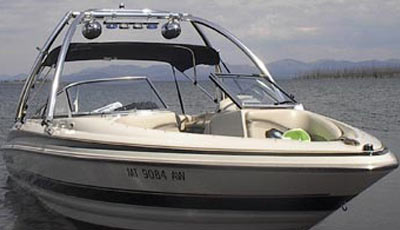 Larson - Jason Fruh's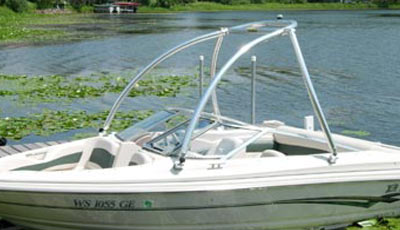 Larson - Greg Carroll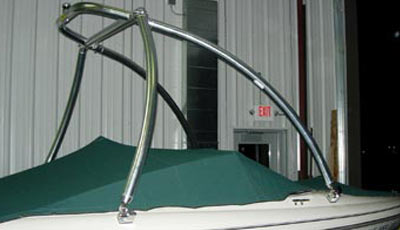 Larson - Greg Carroll
I installed my tower last week and it's AMAZING!! Installation went pretty smooth, the instructions were very informative. Everything has been great from the time I ordered, customer service, support, shipping – everything!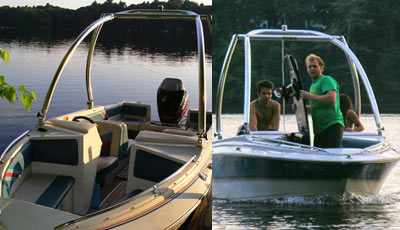 Larson - Jim Helman's
Jim Helman's 17 1/2 foot Larson Citation, 150 hp Yamaha Looks good and works better than expected. It's quieter than the old ski pylon.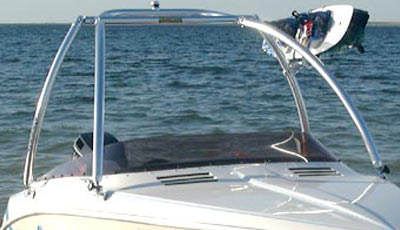 Larson - Scott Derksen's Larson Senza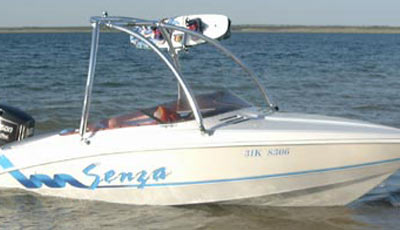 Larson - Scott Derksen's Larson Senza
Great product - the installation went very well and we are very happy with the results.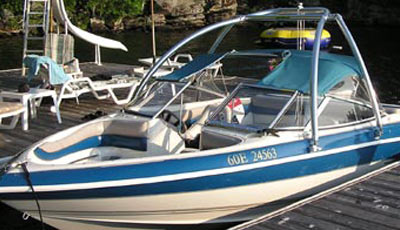 Larson - Mark Ensio's Larson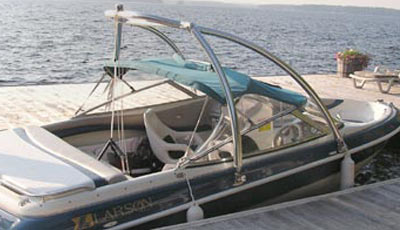 Larson - Mark Ensio's Larson
The boat is a bit vintage, but still looks good, especially with the tower.We took the photos with the bimini top to show that the tower can be installed in a way to leave the top still usable.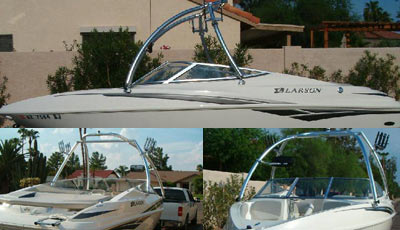 Larson - Nick Sewald's Larson 206 Senza
I just got my tower install from Tige Performace Boat in Arizona, and it is awesome just wanted to tell you guys, thank you.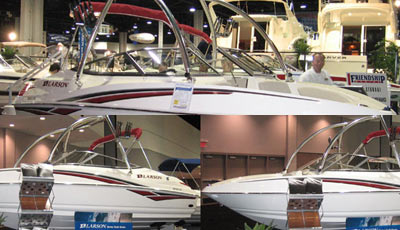 Larson Senza 186 Installed by Friendship Marine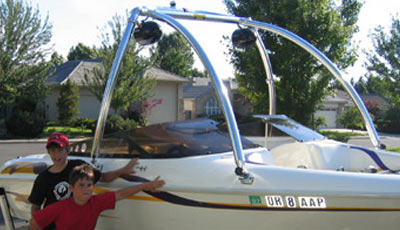 Larson - Mark Conner's 1998 Larson Flyer
WOW does this look great and give the boat a whole new cool look!!! With your instructions and helpful phone support I was able to install the tower in an evening with my boys. The instructions were clear and simple; that we made a project of it and got it installed and used it the next evening. If we can do it any one can do it. The boys love the tower and now everything for the boat or about the boat is measured by the quality standard monster tower has set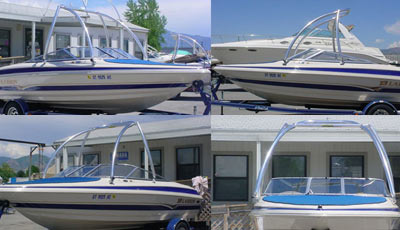 Larson - 2001 190 Larson "LXI" Installed by Executive Boat and Yacht in Salt Lake City, Utah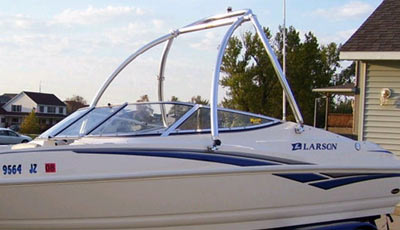 Larson - Joe and Sue Pearson's 2005 Larson 206 Senza
Tower works great!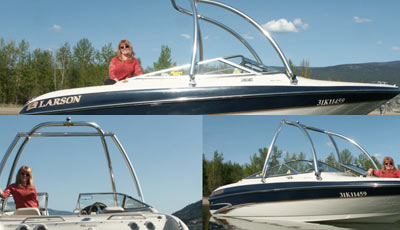 Larson - Ron Saunders Larson 186 LXI
Loved the quality and precision engineering of every piece of hardware. This is tower will last forever. Installation was very straight forward and only took a few hours with some help from two friends. A test drive at 48 mph proved that it is extremely solid - no vibration, no noise. We are looking forward to a fun summer on the water with this baby.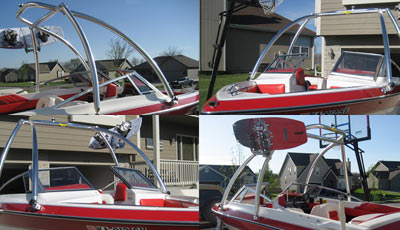 Larson - Dan Pempin's 1991 Larson "All American" 170
I thought that I would send out a short note emphasizing what a great product you have designed. I have a friend who had a monster tower installed years ago and was the first thing that I purchase for my first boat. The installation went off without a hitch and the instructions were well written and easy to follow.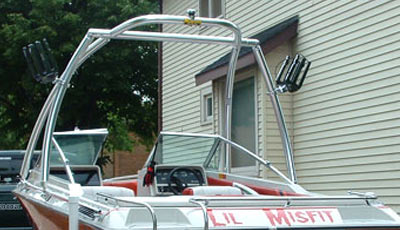 Larson - P. Hightower's 1988 Larson Citation DC175BR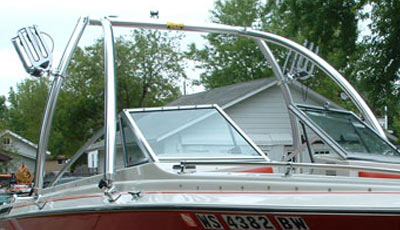 Larson - P. Hightower's 1988 Larson Citation DC175BR
Great tower guys. I couldn't be happier.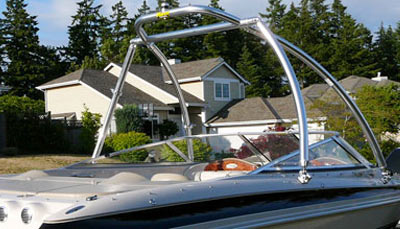 Larson - M. Suelzle's Larson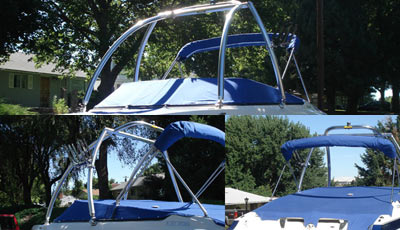 Larson - A. Harvey's 2006 Larson LXI 208
A. Harvey's 2006 Larson LXI 208 It took me about 8 hours in total, as I spent about 4 deciding where I wanted to put it. I am pretty picky. The install went great and we love it. Thanks for a great product!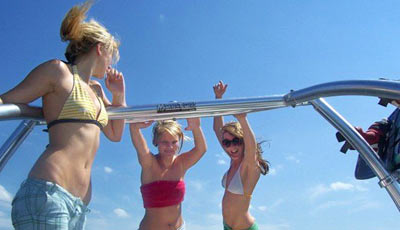 Larson - A. Law's Monster Tower on a Larson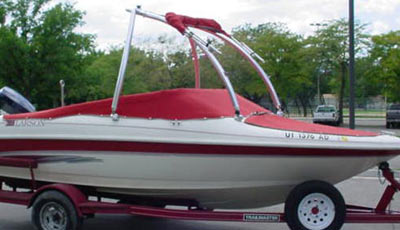 Larson - 1997 186 Larson SEI Installed Executive Boat and Yacht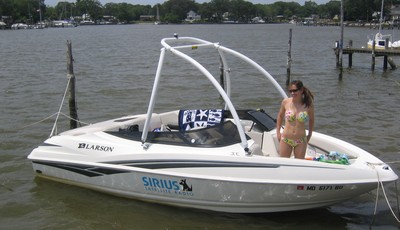 Darrell P's 186 Larson Senza
I think your towers are fantastic.  My dad, my girlfriend and I installed mine and it went really well.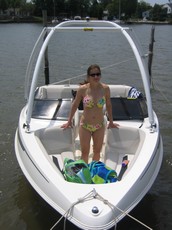 Darrell P's 186 Larson Senza
Look at how great the boat looks with the new tower.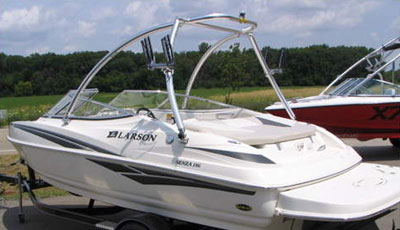 Eric R's 2006 Larson Senza 186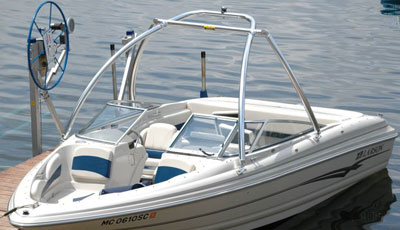 Martin E's Larson
Here are the pictures of our Boat with the Tower, It is working Great!!!.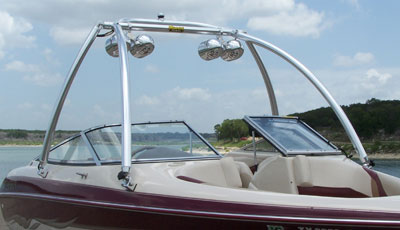 Larson - Shaun S's Larson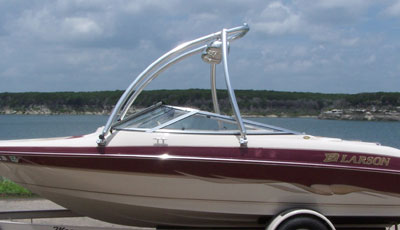 Larson - Shaun S's Larson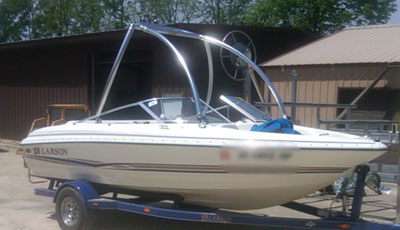 Larson - Mike R's 2003 Larson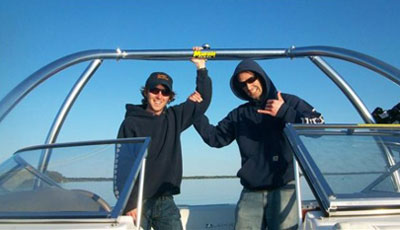 Nate D's 2001 Larson 185 SEI
It took us a few hours in the rain, but it's on solid now.