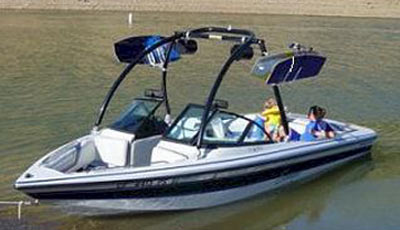 Sanger - Jeff Kidwell's 2000 Sanger V-210
Everyone thinks the tower looks good!!. Thanks again for a great product.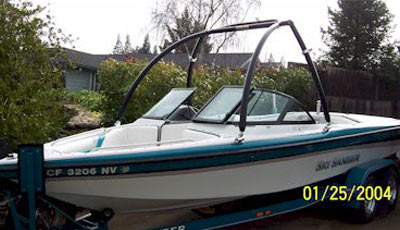 Sanger - Steve Day's 1996 Ski Sanger V210
Just wanted to drop you a note and let you know you are doing a great job. Like Bill, I was not real thrilled with the thought of spending $2500 on a tower and racks for my boat and was contemplating building one of my own. Then, fortunately, I ran across your website. I was very impressed with the information contained within and glad to see that a bunch of engineers were doing this rather than some folks with a torch and a long weekend (I'm a graduate Civil Engineer). After about two hours on the site (not just looking at the models) I decided this was going to be the one. The price was awesome as was the quality. The customer service was outstanding as well. The tower went on easily and is as quiet as you claim. Unfortunately I have not gotten on the lake yet (a little too cold in January) but I can't wait. Attached is a photo of the tower on the boat on the trailer. I'll send you an updated photo in the spring when we get it out on the lake. If any of you are in Folsom, CA (near Sa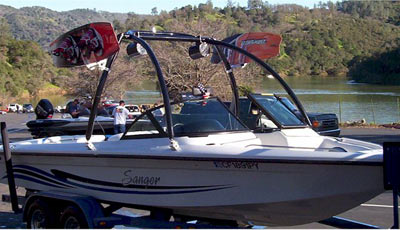 Sanger - Jeremy Harvey's 2003 Sanger DLX
Here are a few pics of my 03 sanger DLX, all decked out in Monster gear. I am sure it will look a lot better when the monster Bimini gets here this week, oh ya and if Brianne were on it, but we all don't have Brianne's laying around. Anyway, thanks for a great product.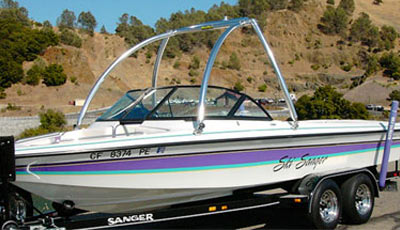 Sanger - Tante B. Sanchez's 1998 Sanger DLX
Installation was simple, even for one person. We had the chance to finally use it over the weekend and I'm very satisfied with it so far.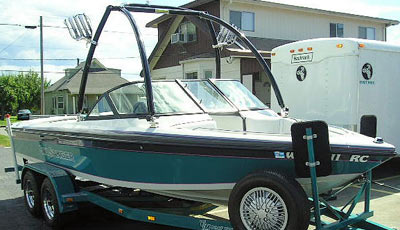 Sanger - Mitch Chaput's Sanger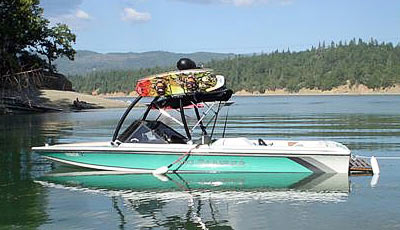 Sanger - Rich Banuelos' Sanger
I just want to say thanks for everything. Products, service, and price were all truly awesome!!! I can't say enough about how happy we are with the tower, board racks, bimini, and speakers. The customer service is the best, other companies could definitely take a lesson from you guys.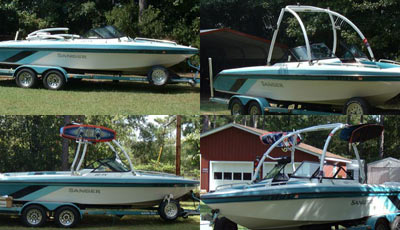 Sanger - Richard Caulder's '91 Sanger
Just wanted to say that your tower is great. Looks great and works great even on an older boat. Racks and mirrors work wonderfully. Nice to have all that room in the boat now.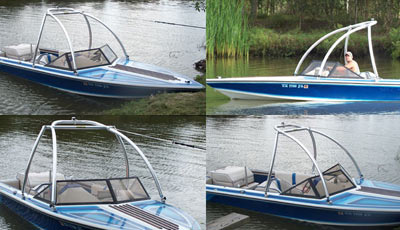 Sanger - Josh Peikert's 87 Ski Sanger
Hey guys, The Tower Works Great !! I've wakeboarded behind it about a dozen times this past summer. Every time was awesome. Installation was not hard at all. I bribed a few buddies to come over with a case of beer and a few hours later the tower was up and ready. Prior to the tower I had a 6 foot ski pole with a long, neon orange ratchet strap going to the front of the boat. Everyone thought it was pretty bootleg.... If you can only imagine the change of heart they had..... The tower looks amazing..... Thanks again!!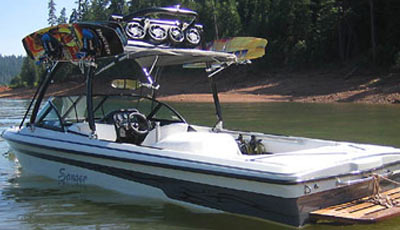 Sanger - John Lark's 95 Sanger DLX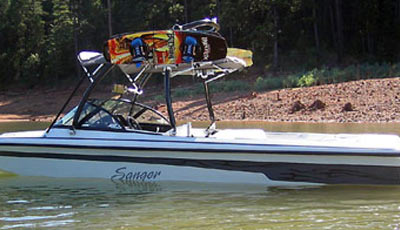 Sanger - John Lark's 95 Sanger DLX
I've had the Monster Tower now for 4 years and as am happy with it today as the day I got it.